Weed Control Professionals in Racine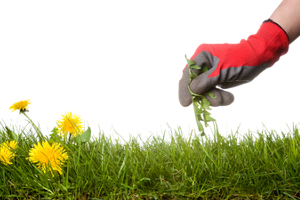 One of the things homeowners worry about most, when it comes to their lawn, is the need for Racine weed control. At CJS Lawn & Landscaping we understand this and that is why this is one of the more popular services we take care of for local residents around here. Weeds are plants that are out of place and, as a result, can cause harm to the plants that do belong there.
Some weeds are non-aggressive which means they may not cause harm but they certainly compromise the well-manicured look of your lawn. Other weeds are destructive which means they look unsightly and can harm or kill your grass. Invasive weeds can overtake your lawn in a single growing season leaving it unattractive and even dead.
Weeds cause damage because they are there to compete with your grass for valuable nutrients and space. They will rob your desirable plants of sunlight, water and nutrients so that they grow healthy while your lawn or plants suffer. Plus, this leaves your yard weakened so it is more susceptible to potential threats like pests and disease.
Weed Control Lawn Care
When it comes to weed control lawn care, you want to be sure you have an expert Racine landscaper on your side to help you take care of this. The trick is to not wait until you already have a problem to do something about it. Once weeds take hold enough for someone who is not trained in landscaping to realize there is a problem, then the problem may be too far gone.
You want to take a preventative approach to weeds as opposed to trying to fix it after the fact. Treating your lawn before weeds are able to take hold will do away with the risk of it happening, or at least lower the chances considerably. Plus, if you are working with a professional for this type of work they will be able to spot any potential threats early on. Stop taking risks when it comes to the health of your yard; let our pros take care of this for you.
Racine Landscape Weed Control
If you are ready to take the best care possible of your lawn then it is time to give us a call. Since 1982 we have been the name to rely on for all of your lawn care needs. As a local, family owned business we take care of each of our clients as if they were a part of our extended family. And now, we look forward to adding you to the list of satisfied customers we work with.
So what are you waiting for? Give us a call today so we can get started taking the best care possible of your yard starting with Racine weed control.
Our Racine Weed Control Specialists Provide:
Lawn care services
Lawn treatments
Landscape weed control
Weed control services
Fall lawn weed control
Weed suppressants
Weed control landscaping
Lawn care maintenance
Landscaping weed control
Landscaping services
Lawn care weed control
Grass treatment
Recent Articles
3 Landscaping Tips To Improve The Curb Appeal Of Your Home This Fall

With summer quickly coming to a close, most homeowners are performing the last few tasks needed to make sure their landscaping is ready to transition into the fall. While it is certainly a good idea to make sure that your landscaping is prepared for cooler months ahead, there is nothing that says you can't undertake…

Read More

Should You Pay a Professional for Fertilization Services?

Managing your lawn and landscape is one of the biggest maintenance tasks you have as a homeowner. Between weed control, seasonal clean-ups, and every lawn and landscape task in-between, there's no end to the work. At CJS Lawn & Landscaping, our professional Racine landscapers are dedicated to helping our clients keep their lawns and…

Read More

If you are looking for a Racine weed control company, then please call 262-878-1660 or complete our online request form.