Looking for a Racine Landscaping Company?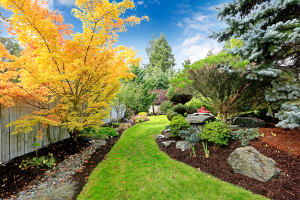 For the best in Racine landscaping, locals know the name to trust in is CJS Lawn & Landscaping. Since first starting in 1982, we have been doing whatever it takes to complete the jobs that help homeowners make their lawn and landscaping look its best. This also means using less chemicals while adhering to higher standards. Now, we look forward to showing you in person how our workmanship and customer care have helped make us number one.
Landscaping Services in Racine, WI
There are a variety of services we can take care of for you when it comes to landscaping in Racine. And, in fact, our lawn maintenance jobs are among the most requested in the area. If you want your home to have the curb appeal that it should then it starts with making sure the outside looks as good as the inside. Too many homeowners focus only on the interior of their house even though the exterior is what makes the first impression.
Our goal is to offer people who value quality Racine landscaping services a way to get the very best. From mowing to the design and installation of landscape lighting, we take care of it all. You can rest assured that you will get the same high quality of lawn maintenance service from any one of our valued team members. That's because we all share the same goal when it comes to taking care of our local Racine customers.
Racine Lawn Maintenance
Part of ongoing Racine lawn maintenance is dethatching, seasonal cleanups and bush and tree trimming. This will not only make your yard look its best, it will help to create healthy growth. Plus, when you let our pros take care of your landscaping, it means we can be on the lookout for potential threats like insects and disease. Contact us today so we can get started.
But taking care of Racine lawn care is about more than just mowing, trimming and edging. It is also about getting your grass to optimal health. This is something we can help with through important services like fertilization and weed control. It is much more cost effective to maintain the health of your lawn on a consistent basis than to try to repair it after something happens.
Landscape Lighting for Racine Homes
Of course one of the smartest choices you can make as a homeowner is to add Racine landscape lighting to your property. Aside from looking great, this will also help to cut down on possible safety concerns and reduce the likelihood of burglary or vandalism. We look forward to meeting with you and showing you what makes us the top choice for Racine landscaping services.
What Our Racine Customers Are Saying About Us
CJS Lawn & Landscaping is Rated: 5 / 5
based on these 1 happy customer reviews.
---
"Both of the guys that performed the landscape work at our house were great. They were professional, knowledgeable and courteous. The front of the house looks wonderful with the new landscaping. We appreciated your advice and working with us on selecting the plants and the design of the layout."
---
If you are looking for a Racine landscaping company, please call CJS Lawn & Landscaping at 262-878-1660 or fill out our online request form.