Racine Landscaping Related Services
Having been in the business since 1982 we have learned a lot here at CJS Lawn & Landscaping about landscaping. Of course we have also learned a great deal about caring for our customers over the decades as well. So we knew we needed to make the focus on including as many of the Racine landscaping related services as possible.
There is much more to your lawn maintenance and landscaping needs than the basic mowing and landscape lighting. So for that reason we wanted to be able to provide you with as many of those services through one company. More importantly, through a reputable, trustworthy and highly skilled Racine landscaping company that also happens to be local and family owned.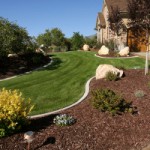 In order to have the perfect look for your yard you have to rely on the pros at CJS Lawn & Landscaping to take care of your professional landscape design and installation. The design element is to make choices about what will be included and where everything will go. Designing the layout is the key to making the perfect natural look appear to be not planned at all with a sense of unity.
The installation stage is when all of the careful plans are carried out. Both of these stages must be done with expert precision in order to execute the perfect yard. So it is important to let experienced professionals, like our crew, take care of all of this for you.
If you are looking for a Racine landscaping company, then please call 262-878-1660 or complete our online request form.