Racine Seasonal Yard Clean Ups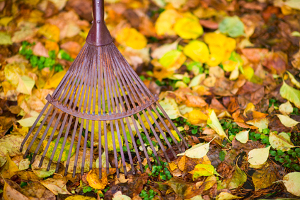 You are going to love all of the benefits of having a Racine seasonal yard clean up and you may not even realize why yet. Even more important, you are going to appreciate the thorough and professional work the CJS Lawn & Landscaping team does for you. This type of cleanup is important for a variety of reasons. The obvious one is the overall appearance of your yard and the curb appeal factor.
Not cleaning up from seasonal mess begins to look very unsightly, very quickly. The problem is, as the homeowner, you really don't have the time or equipment to take care of it completely. Not to mention, where to haul off the leaves or other organic debris? Which is more than the perfect reason to leave it to our Racine landscapers.
Another reason seasonal clean ups are so important for your yard is due to the yard trying to grow underneath. You cannot have a lush, green lawn if you leave last season's mess covering it up. This matter will form a blanket which prevents your grass from getting the sunlight and nutrients needed. It will stunt the growth and eventually kill your grass.
Spring Clean Up Landscaping
So what do Racine spring yard clean up include? For one thing, just like you perform a spring cleaning for the inside of your home, you should do the same for the outside. During this job we can remove things like accumulated dead leaves and grass that have collected over the winter. This is ideal for giving your lawn and your spring flowers a chance to thrive.
In order to have a great looking and healthy yard all year you have to be taking care of it all year. Even better, leave the hard work to us. We know what needs to be done and when. All you have to do is simply enjoy the yard we help you have.
Fall Yard Clean Up Service in Racine
Come fall, we prepare your yard for the upcoming winter season and following spring. Allowing leaves and debris to remain on your lawn during this time of year promotes leaf mold. It also prevents water and sunlight from getting to the roots of your grass. So once spring returns your lawn barely has a fighting chance to be healthy. The result is that you then have to spend countless dollars on trying to resuscitate your lawn. 
We are a local business that has been taking care of residents for well over three decades now. We look forward to having the chance to work with you for your Racine seasonal yard clean ups or any other landscaping needs. Call us now so we can get started.
Our Racine Yard Clean Up Experts Provide:
Spring clean up landscaping
Seasonal clean up
Lawn clean up
Yard cleaning
Spring clean up
Lawn clean up services
Yard cleanup
Spring yard clean up
Fall yard clean up
Yard cleanup services
Lawn cleanup services
Lawn care maintenance
Recent Articles
The Reasons Kenosha Seasonal Yard Cleanups are Important

Everyone gives plenty of thought to the importance of spring cleaning the inside of their home but what about the outside? Kenosha seasonal yard cleanups are a vital part of taking care of the look of the outside of your house but there is more to it than that. What most homeowners do not realize…

Read More

Lawn Maintenance Checklist For Spring

Lawn maintenance can make your turf strong, green, and healthy. To have a beautiful lawn, maintenance should always start at the soil. Generally speaking, there are certain lawn care tasks that should be done several times a year that improve the health of the soil. Just remember that your lawn has its own unique set…

Read More

If you are looking for seasonal yard clean up services in Racine, then please call 262-878-1660 or complete our online request form.