Where To Place Landscape Lighting For The Biggest Impact by CJS Lawn & Landscaping
---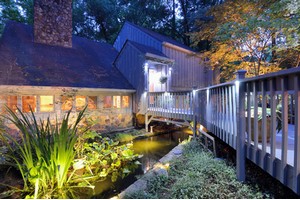 You probably already understand that landscape lighting is a necessary part of safety and security for your home and that it impacts the appearance of the property. It also affects how you feel about your Racine home, which may be why you're searching for ways to make a difference in the appeal of your property and how you enjoy it after dark.
With all the various landscape lighting ideas out there, it's easiest to get the look and feel that you want by keeping it simple. A few well-placed outdoor light fixtures installed by a Racine landscaper is all you need to make a significant impact. Let's start with a few basic suggestions.
Install Patio Lights
The front and back entrance to your home should be well lighted. Unfortunately, most homes have a single light located beside the front and back door. One porch light leaves most of the front and backyard dark, which does little for the safety and security of your property.
As a professional Racine landscaper, CJS Lawn & Landscaping suggests that you install additional landscape lighting at the entryways of your home. Recessed lighting is an excellent addition to covered patios. It's a good idea to install downlights over sidewalks next to the house or over porches with no roof.
Install Pole Lights At The Curb
If guests have to make their way to your front door in the dark, accidents can happen. A short pole light is perfect for installing by the curb so they can see when they exit their vehicle. By illuminating this area, they will have enough light to see by whenever they visit. Plus, the additional landscape lighting increases the appeal of the home.
Install Dusk-To-Dawn Lights
While motion sensor outdoor lights are available, dusk-to-dawn lights will provide illumination all night. You can install them anywhere that you need extra lighting. Most dusk-to-dawn lamps are generally better for larger areas. Just be sure to place them where they won't annoy the neighbors because they do stay on all night.
Consider Installing LED Outdoor Lights
Nobody wants to see their energy bill skyrocket just because they installed landscape lighting. Go with LED outdoor lights so that you don't have to worry about leaving them on. They are much more energy efficient but still provide the same illumination as traditional outdoor lights.
If you are looking for a landscape lighting professional in Racine, then please call 262-878-1660 or complete our online request form.