Bush & Tree Trimming Experts in Racine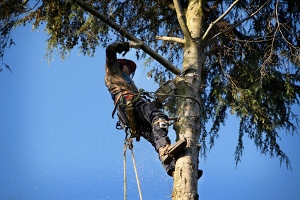 You have probably given a lot of thought to Racine bush and tree trimming but thought "who has the time?" The problem is that this is actually a very important task to take care of but not one that the average homeowner has time to do. Not to mention, you are not likely to have all of the necessary tools or the knowledge of how to do it properly.
There is nothing wrong with that because that's what we are here for. At CJS Lawn & Landscaping, our Racine landscapers have the training, knowledge, skills, experience (as well as the equipment) to get the job done. Let us take care of this important task for you so all you have to do is enjoy the final look. We have been taking care of this type of task since first opening our business back in 1982.
Trimming plants is basically the process of removing part of the bush or tree in order to improve it. This can be done to improve either the look or the health of the plant – or both. But it is essential that this be done at the right time, using the correct method. Which is why you need to have a professional take care of it for you.
Professional Bush Trimming
So there are actual benefits to pruning. For one thing, this is a good method to use in order to correct any potential growing habits. It can also be used to bring in an earlier bloom time as well as cause the flower to bloom much bigger. And this is also an essential way to help prevent potential threats like disease and pests.
On the other hand, you have to be careful not to overprune. Over-trimming could have the opposite effect such as stunting growth or weakening the plant and making it susceptible to illnesses or insects. For your professional Racine bush trimming, trust the CJS Lawn & Landscaping name.
Racine Tree Trimming Service
In order to have the best results from your Racine tree trimming you should schedule regular care. Professionals know when this should be done and how often, based on the type of plants you have. There is a science to getting it just right and you don't want to take a chance.
The idea is to help stimulate and encourage healthy growth. So let our trained pros with their years of expertise take care of this for you. You are going to love the look of your landscaping when you let us take care of your Racine bush and tree trimming. Not to mention, this is what will ensure a long and healthy lifespan.
Our Racine Tree Trimming Specialists Provide:
Tree trimming services
Bush trimming
Shrub care
Pruning
Tree trimming and removal
Tree cutting services
Tree services
Pruning bushes
Trimming bushes shrubs
Rose bush trimming
Pruning shrubs
Trimming bushes
Recent Articles
Where To Place Landscape Lighting For The Biggest Impact by CJS Lawn & Landscaping

You probably already understand that landscape lighting is a necessary part of safety and security for your home and that it impacts the appearance of the property. It also affects how you feel about your Racine home, which may be why you're searching for ways to make a difference in the appeal of your property…

Read More

Top Three Landscape Lighting Questions

Landscape lighting is a great way to improve the appearance and functionality of your home's landscape. A great landscape lighting design can make your landscape look even better at night, and our professionals can help you design the perfect lighting scheme for your landscape. Our landscape lighting designs will help you accentuate the most attractive…

Read More

If you are looking for a Racine bush and tree trimming professional, then please call 262-878-1660 or complete our online request form.