Qualified Kenosha Landscaping Company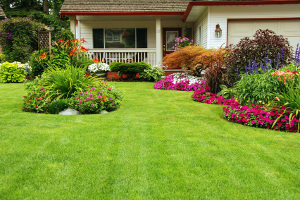 When it comes to taking care of your Kenosha landscaping, you need to know you are getting the very best. And at CJS Lawn & Landscaping that just happens to be what we do. As a local company we rely on our local customers not just for the initial job but for repeat and referral work. But it is also about the fact that our clients also happen to be our friends, neighbors and fellow community members. So it has to be in our best interest to take care of them. And now we look forward to adding you to our client base.
Landscaping Services in Kenosha, WI
When it comes to landscaping in Kenosha we find too many homeowners attempt a DIY approach before turning to us. For one thing, there is a great deal more labor involved in this type of work then you may originally think. Plus, do you really want to give up your valuable free time to take care of labor intensive yard work?
Not to mention, you want your lawn to look like it was taken care of by a professional Kenosha landscaper. The look we create for you will help make your grass the envy of the neighborhood. Aside from a variety of important services, the main one we can provide you with is landscape design and installation. Don't settle for less than the look you really want to create; let our experts take care of this for you.
Kenosha Lawn Maintenance
Of course when the average person thinks Kenosha lawn maintenance they think mowing. At CJS Lawn & Landscaping we provide far more services than that. In order to make your grass look its best you have to be sure it is in good health. This means letting our pros take on tasks like core aeration, fertilizing and dethatching. Let us show you firsthand what makes us the top choice for Kenosha lawn care services.
Since 1982 we have been providing locals with the finest in yard work that goes above and beyond our customers' expectations. So what are you waiting for? Contact us today so we can start making the outside of your home look as impressive as the inside already does.
Landscape Lighting for Kenosha Homes
Considering Kenosha landscape lighting? Well, then you are about to make a very smart choice as a homeowner. This type of lighting not only spotlights the features you want seen it also helps take the focus away from features you would rather hide. Not to mention this adds value to your property and cuts down on the risk of break-ins or vandalism for your house. Contact us today so we can teach you more about what we offer as the best Kenosha landscapers around.
If you are looking for a Kenosha landscaping company, please call CJS Lawn & Landscaping at 262-878-1660 or fill out our online request form.