Lawn Mowing, Trimming & Edging in Racine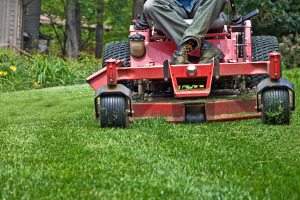 Part of being a responsible homeowner is taking care of Racine lawn mowing, trimming and edging. While the average homeowner thinks this is the type of work that they can take care of on their own when they first get a home, they soon realize how unrealistic that is. It is a time consuming task that ends up getting left until the very last moment.
Not to mention, that's just the mowing. Who has time for trimming and edging too? The smartest thing you can do is realize you need to leave this type of work to the pros and let the CJS Lawn & Landscaping team take care of it for you. With over 30 plus years in the business, our Racine landscapers have more experience than most of our competition combined.
Most importantly, we care about the work we do. We are not some fly-by-night outfit that wants to give lawn care a try. This is a service we have been committed to for decades now. We want you to love your landscaping and we want to be part of making that happen for you.
Professional Lawn Mowing
Your lawn is not just visually appealing, it is environmentally beneficial as well. It protects against erosion, enriches the soil and it doesn't hurt that, if well kept, your yard can even help increase your property value. The key to all of this though is having a well cared for and maintained lawn.
A well manicured lawn is aesthetically pleasing; it creates a neat, clean, even and uniform look for your yard. But this is also an important way to monitor for potential problems like insects and disease. Professional Racine lawn mowing experts know what to look for when they are taking care of your yard and this is your best method of approach for preventing problems that could cost you a great deal of money and potentially kill your lawn.
Trimming & Edging for Racine Lawns
Some people refer to Racine lawn trimming and edging as icing the cake; although not required it was completes the look. Let's be honest, your lawn is never going to be as immaculate looking as it could be if you skip this step. At CJS Lawn & Landscaping it is hard to imagine even finishing a lawn care job without including this important step.
You can rest assured that you are going to love the final look of your lawn once we get finished with it. So if you are ready to trust in letting a trained and experienced professional take care of your regular Racine lawn mowing, trimming and edging let's get started, today.
Our Racine Lawn Mowing Experts Provide:
Lawn mowing services
Mowing services
Landscaping edging
Lawn cutting services
Driveway edging
Lawn trimming
Grass cutting services
Lawn maintenance
Lawn care services
Landscape edging
Lawn care maintenance
Yard edging
Recent Articles
What Really Goes Into Burlington Landscaping Design

No house is truly a home until you take care of Burlington landscaping design and installation. You give so much thought to the interior of your house so there is no reason to overlook the exterior. Especially since the outside is what adds curb appeal and makes the first impression. The trick is making sure…

Read More

3 Great Benefits You'll Enjoy thanks to Landscape Lighting

If you're the type of homeowner who puts a lot of care into maintaining your lawn, then you might want to look into getting landscape lighting for your Racine area home. After all, landscape lighting offers a number of great benefits for you to enjoy. Want to know more about those benefits? That's no problem:…

Read More

If you are looking for professional lawn mowing services in Racine, then please call 262-878-1660 or complete our online request form.