In Need of a Caledonia Landscaping Company?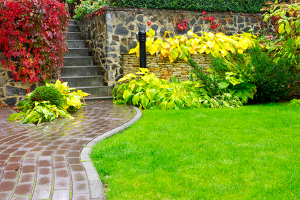 Everyone starts thinking about Caledonia landscaping once the weather turns warm; what about planning ahead for your lawn maintenance? At CJS Lawn & Landscaping we are thinking about your yard all year long. In fact, we are also taking care of the yards for countless local homeowners in the Caledonia area all year long. For one thing, you need to let us take care of your seasonal cleanups. This is what keeps organic matter from collecting and creating a barrier between your yard and the valuable sunlight and nutrients it needs. We also take care of snow removal. Not only does this help ensure the health of your grass, trees and shrubs, it makes your walkways safe. Contact us today to find out what we can do for you, no matter what time of year it is.
Landscaping Services in Caledonia, WI
At CJS Lawn & Landscaping we try to offer a wide variety of tasks for landscaping in Caledonia. There are so many tasks that go into making your lawn look its best. So as your premier provider for Caledonia landscaping services we offer things like:
Weed Control
Core Aeration
Trimming & Edging
Dethatching
Bush & Tree Trimming
Plus much more
Contact us today so we can tell you more about all that we have to offer you. If you want your grass to look its best, you have to let our experts take care of it for you.
Caledonia Lawn Maintenance
So what can we do for you today? One thing is for sure, we can give you back your free time. Stop wasting your precious time taking care of Caledonia lawn maintenance when we can take care of it for you. For over 30 years now it is what we have done best.
There is a great deal more to caring for your yard than just mowing in the summer.To help your grass grown strong and healthy in the summer you have to ensure it is able to get resources needed in order to make this happen.
Landscape Lighting for Caledonia Homes
If you are contemplating Caledonia landscape lighting then you need to give us a call. We can show you all of your exciting options and walk you through our design and installation plan. Landscape lighting serves a variety of important functions such as:
Highlighting areas of your yard you want noticed
Taking focus away from what you don't want seen
Increasing the property value of your home
Reducing the likelihood of a break in or vandalism
When it comes to any and all of your Caledonia landscaping needs, give us a call!
If you are looking for a Caledonia landscaping company, please call CJS Lawn & Landscaping at 262-878-1660 or fill out our online request form.