Professional Landscape Design in Racine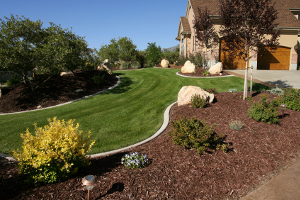 To completely enhance the look and layout of your property you need to work with the CJS Lawn & Landscaping professionals for your Racine landscape design and installation. Each time you see a well manicured and stunning yard you can be sure someone had to first plan and then create the look you are seeing. Even if it is meant to look as natural as can be it was certainly plotted out.
There are certain factors that go into creating the perfect look for each yard. It is based on details such as the size of the yard, the style of the home and the taste of the owners. One of the main goals is to create a sense of unity with the design. You want everything to work together and complement each other instead of seeming randomly chosen.
Simplicity is another factor to consider. You can still make your yard stunning without having to go overboard. Choosing too many items or making things too complex will only confuse matters and detract from a cohesive and attractive look. You may even want to first choose a theme in order to make sure the unity and simplicity fit the theme you wanted.
Stunning Landscaping Designs
The first stage of professional landscaping is the design phase. Too many homeowners try to improve the lawns by selecting random plants at their local home improvement store. For one thing, you have to have a plan of action before performing the action. However, making a design plan that makes sense is not as simple as it sounds.
This is where you need one of the Racine landscapers here at CJS Lawn & Landscaping to get the job done. We make a cohesive and comprehensive plan that we can adjust to your liking and make changes per your request. This is the best way to ensure that you are going to love the final look of your finished landscaping before it is even completed.
Racine Landscape Installation
As expected, the next stage is the installation phase. This is when everything is put in place based upon the agreed upon design plans. Of course it is of the utmost importance because it has to be done carefully and correctly. Any little mistakes can throw off the layout or lead to problems such as the plant life not taking root.
So let's get started working with your landscaping today. You can finally let your yard reach its full potential and enjoy your great outdoors fully. For the best in Racine landscape design and installation you are going to love the work that we do for you.
Our Racine Landscape Design Experts Provide:
Landscaping design
Landscape designs
Backyard landscape design
Landscape design services
Landscaping ideas
Landscaping services
Front yard landscape design
Landscape design
Landscaping designs
Landscape design ideas
Landscape ideas
Landscape installations
Recent Articles
What Really Goes Into Burlington Landscaping Design

No house is truly a home until you take care of Burlington landscaping design and installation. You give so much thought to the interior of your house so there is no reason to overlook the exterior. Especially since the outside is what adds curb appeal and makes the first impression. The trick is making sure…

Read More

5 Benefits of Hiring a Professional Racine Landscaping Service

Lawn care maintenance is one of the lesser considered but no less important parts of making your home or business look its best in the neighborhood. The following are many ways that outsourcing your Racine landscaping services can benefit your home and business. Relax This Summer: Enjoy Your Free Time Your time is very valuable, and often you…

Read More

If you are looking for a Racine landscape design professional, then please call 262-878-1660 or complete our online request form.