Waukesha, WI Lawn Maintenance & Landscape Lighting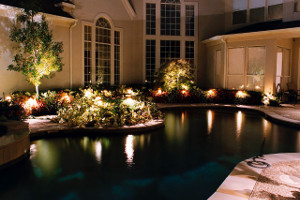 This is the most beautiful time of year when the leaves turn brilliant colors and the landscape comes alive with color in the Waukesha, WI area. If you're a homeowner with a yard full of lush foliage, you know what we mean when we say it can really be stunning in this area of the country.
At CJS Lawn & Landscaping, our company of professional landscapers have been maintaining and designing and installing landscapes since 1982. Our professionals have seen many beautiful seasons over the years and this year is no exception. It's the Fall season and time to ensure your lawn has been put to sleep for the winter. Have you had your season cleanup done yet?
Seasonal Lawn Maintenance in Waukesha
Every year debris, leaves, and other things start falling from the sky to make messy lawns that need to be taken care of. If you have a landscape that sees a lot of debris after the trees are dropping acorns, twigs, branches and leaves all over the place, we can ensure your property is cleaned up at the right times of year. What's best about our seasonal lawn maintenance is that we can schedule it at the exact right times where you're not having to do it every week.
Lawn Maintenance By Professionals Improves Lawn Health in Waukesha
When our professional landscapers help you with your lawn care and other services, you have qualified professionals with years of experience in creating gorgeous, showstopping landscapes for area homes. Taking care of your Greenfield lawn involves a lot of hard work that we'd be more than happy to work on for you. We can take care of all your lawn maintenance needs or just some, it's all up to you!
Exceptional Waukesha Customer Service For Your Lawn Care
When our CJS Lawn & Landscaping pros take care of your lawn in Waukesha, you have a crew of landscape professionals who can make your landscape a stunning piece of living artwork. You'l have the landscape that makes all your friends and family green with envy. There's no better way to get a great looking lawn you're proud of than to hire our professional, experienced landscape company for all your lawn care needs.
Waukesha Landscape Lighting
There's another way you can really make your landscape boast the wow factor -professionally designed and installed landscape lighting. After dark is a prime time to have some outdoor fun, especially during the summertime. Plus, it can add exceptional curb appeal when done right. Let us plan something amazing for your landscape lighting and you'll be hoping people drive down your street just to see it all lit up after dark!
If you are looking for a landscape lighting professional in Waukesha, then please call 262-878-1660 or complete our online request form.