Mukwonago, WI Lawn Maintenance & Landscape Lighting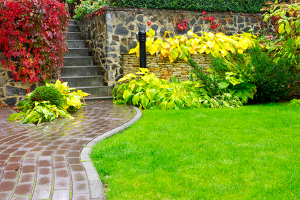 If you have a beautiful home in Mukwonago, there's plenty of ways we can make it even more beautiful via landscaping, insect and other maintenance that prevents problems. Fertilization, weed control, seasonal clean ups, aeration, and dethatching all work together to keep your lawns and landscapes healthy and thriving.
That's why we advise all our friends and neighbors against hiring just anyone to maintain their lawns. Having a neighborhood teenager come mow your lawn every week just won't create a beautifully maintained lawn for you. It takes so much more than that!
Seasonal Lawn Maintenance in Mukwonago
There are time of year you'll need to care for your lawn overtime. Seasonal lawn maintenance requires you to take care of things like putting your sprinklers to sleep for the winter season and wrapping them up tight to ensure they're not going to freeze.
Making sure all the fall foliage is removed so it doesn't sit and rot in areas where it shouldn't be accumulating, like near your home's foundation or near the swimming pool where it will draw in insects to bed for the winter. Instead, have your lawn maintained with a special seasonal cleanup every year. Give us a call and we can take come give you an estimate for your lawn maintenance needs.
Lawn Maintenance By Professionals Improves Lawn Health in Mukwonago
Keeping your lawn healthy is the only way to ensure it stays beautiful and lush. The unhealthier it gets, the less beauty will be there to show. The last thing you need is to have had landscape design and installation only to turn around and let it slowly degenerate into death.
Instead, you can have very reasonably priced lawn maintenance and care provided to you. Taking care of your lawn is something that's necessary, and most often the professional companies like ours can get it done in way less time and with less trouble.
Your Mukwonago lawn is always going to need more than just mowing and weed-eating, even if you only have grass to mow. Your lawn won't stay healthy if you leave it to the insects and nature to take over. You'll have weeds choking out your healthy plants, grub worms and other plant eating insects eating your expensive carpet grass roots and other plantings, and general degrading of the landscape. Proper maintenance, on the other hand, ensures everything is healthy, well maintained, and fed & watered.
Mukwonago Landscape Lighting
Designing and creating a beautiful landscape lighting scheme for you is one of our favorite things to do because it makes such a huge artistic difference for your landscape. It can double your curb appeal in no time at all with the right lighting scheme.
Landscape lighting also gives you the opportunity to use your lawn or outdoor areas after dark, increasing your entertaining space for certain areas you'll want to be. We can create something stunning for you too with landscape lighting, just let us know what you're looking for and we'll help you transform your lawn after dark with great, energy efficient landscape lighting!
If you are looking for a landscape lighting professional in Mukwonago, then please call 262-878-1660 or complete our online request form.