3 Benefits Of Spring Lawn Aeration
---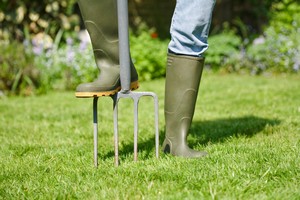 Springtime is the perfect part of the year to start preparing your lawn for warmer weather. Maintaining lush, vibrant grass during the harsher summer months can be tough, but there are a few reliable ways you can make sure your grass is healthy, hardy, and ready for whatever the sun throws its way.
One of the most useful ways to encourage a more durable lawn is core aeration. This process involves making small holes in the soil beneath your grass so nutrients and water can easily reach the roots. Aeration is a quick and easy process, but its significant benefits and results can't be understated! Keep reading this blog from CJS Lawn & Landscaping to learn more about how lawn aeration in the spring can improve your lawn.
Healthier Grass
The most obvious benefit of aeration is a healthier, more durable lawn. The act of making holes in the soil loosens it, making it easier for moisture, oxygen, and nutrients like fertilizer to feed the grassroots. If you've found that your lawn is fragile or easily dehydrated, consider aerating it so it can be ready for the summer ahead.
Better Drainage
Soil compaction can be very detrimental to your lawn, making it tough for your grass to receive the water and nutrients it needs. Aeration is a great way to combat soil compaction and reduce drainage issues it might cause, such as lingering puddles, muddy patches, and lawn dehydration.
Less Lawn Thatch
Lawn thatch is the build-up of dead plant matter that has settled between the soil and the grass, which can cause issues with mowing and poor drainage. While a small amount of lawn thatch isn't that big of a problem, too much can be unhealthy for your lawn. Aeration can pierce that lawn thatch and help it decompose, encouraging your grass to keep growing stronger.
Why Spring?
Spring isn't the only time of year you can aerate your lawn, but it is the best time! Spring brings rain, and rain makes the soil soft, hydrated, and easy to aerate. Spring showers will also make sure your lawn doesn't become too dry after the aeration process.
If you've never had your lawn aerated before, it can be intimidating. Poking a bunch of holes in your lawn could lead to more damage than good if performed the wrong way. But you won't have to tackle this project alone with help from CJS Lawn & Landscaping! We're the reliable landscaper in Racine you can trust for aeration and many other services that will keep your lawn looking beautiful and staying healthy.