Greenfield, WI Lawn Maintenance & Landscape Lighting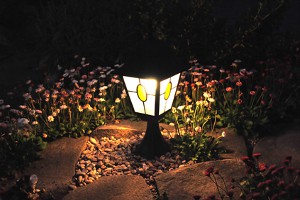 Since 1982, CJS Lawn & Landscaping professionals have been the
Racine landscaping company
to rely on for mowing, trimming, edging, fertilizing, trimming, landscape lighting, seasonal cleanups, landscape design, snow removal, and bed maintenance. We're the areas' premier lawn and landscaping company that will give you the professional results you deserve.
Your lawn and landscape doesn't just need another lawn boy, so the next time you hear a knock on the door for mowing, pass the opportunity by and pick up the phone to call us instead. We handle your mowing and all other aspects of the job without being told what and when to do what next. We're experienced landscaping professional who work hard for you and share our expertise on how to get the best looking and healthiest lawn in town.
Lawn Maintenance By Professionals Improves Lawn Health in Greenfield
Did you know that there is so much to keeping your lawn healthy and lush looking? It's not just a matter of mowing your lawn at the right blade height (which is what we do), it's also a matter of keeping away the bad bugs, diseases, other problems that make the unhealthy lawn. We have the experience to know what's going on with your lawn if you are experiencing problems with it.
Exceptional Greenfield Customer Service For Your Lawn Care
When you need lawn care services, our CJS Lawn & Landscaping crew always strives to give you the best in customer service when we work for your. Our focus is always trying to help our customers to have beautiful lawns with the services they need to get them there. If your landscape or lawn needs attention, you can count on our local company to care about the workmanship and quality of care we give your home's exterior.
Greenfield Landscape Lighting
Landscape lighting can make the value of your property go up simply by creating outstanding exterior appeal, but only if done right. Anyone can put out a few lights outdoors, but having professional landscape lighting installed is a completely different scenario.
First, your landscape lighting will be thoughtfully and strategically placed in the right spots to make your landscape go from dull and boring to extraordinary.
Professionally designed landscape lighting along with installations is something our pros here at CJS Lawn & Landscaping handle every day. We'd love to show you what we can do with landscape lighting to make your home's exterior more fun and functional after dark.
If you live in the Greenfield, WI area, give our number below a call so we can come out to give you a quote on your landscaping or lawn care needs. Whether you need maintenance or need to install new planting and hardscapes, we're here for you in Greenfield areas.
If you are looking for a landscape lighting professional in Greenfield, then please call 262-878-1660 or complete our online request form.